Welcome to Trudi Gilliam Fine Art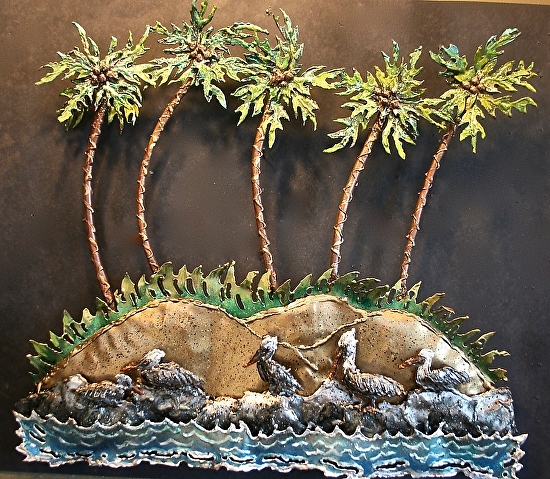 Trudi Gilliam creates one of a kind sculpture in copper, brass, nickle/silver, and found objects for display indoors, or outside...made for people with an eye for the unusual. Above is one of Trudi's whimsical sculptures of brown pelicans sunning on some rocks, entitled, Rocky Beach. It can be seen and purchased at Gallery St. Thomas in Charlotte Amalie, St. Thomas, U.S. Virgin Islands in Palm Passage. Trudi also has work on display at the following galleries: Seven Sisters Gallery, Morro Bay, California> Designworks, Christiansted, St. Croix, U.S. Virgin Islands> The Village Artisans Gallery, Boiling Springs, Pennsylvania> The Copper Door, Ennis, Montana> River's Rim Gallery, Brasstown, North Carolina> Artfusion, Bigfork, Montana> The Kindred Spirits Gallery, Sherian, Montana, and just recently at Dive Experience on the Boardwalk in Christiansted, ST. Croix, U.S. Virgin Islands. You can also contact Trudi Gilliam Metal Sculpture at her studio in Ennis, Montana at 406-682-7772.
Metal Artist, Trudi Gilliam, creates her sculpture using copper, brass, nickel/silver and
found objects. The metal is cut and brazed with an oxy-acytelene torch shaped by hammering, and colored with various chemical patinas, and paint. Since 1971, patrons from around the world have been collecting Trudi's whimsical, eclectic metal work. As a 25 year resident of St. Croix, Virgin Islands, the artist now travels between St. Croix, the Central Coast of California, and Montana where she makes her home.
Drawing her inspiration from the natural world, Gilliam's sculptures reflect the timeless beauty of nature through a myriad of unusual designs, colors, and studies. Much of her art focuses on the vast forms of life found in the Rocky Mountains or in the deeply rich and unique sea life of the Caribbean. Trudi, who has always been fascinated by the seashore and its life forms, spends time along the California Central Coast observing its scenic beauty. She is an avid beach-comber and collector of found objects. Sea glass, shells, driftwood, and stones found along the water's edge or a river bank are often incorporated into her work.
Trudi is a native of the small costal town of Manasquan, New Jersey. She received her Bachelor's Degree in Fine Art, concentrating in Sculpture, from James Madison University in Virginia. She later studied Sculpture and Architecture at the University of Maine, Augusta. In 1971, Trudi moved to St. Croix, U.S. Virgin Islands where marine life captured her imagination. She took a course in Reef Ecology from the West Indies Laboratory of Farleigh Dickenson University in 1972. The same summer, Trudi also became a certified scuba diver, which allowed her to observe sea life up close and in detail.